ABS Machining Services
---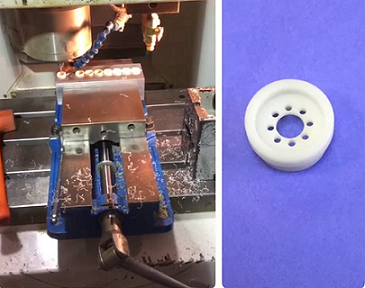 ABS or Acrylonitrile Butadiene Styrene is a two-phase polymer blend which offers an opaque appearance. This tough yet flexible thermoplastic can be easily cut, folded, and machined to make various parts or products. ABS can be further blended or modified with certain other polymers to improve their properties. Brogan & Patrick offers ABS machining services to help you achieve product completion and accelerate your time-to-market capabilities. We employ CNC milling, turning, and multitude of machining techniques to produce accurate ABS machined parts.
Properties of ABS Plastic
ABS is widely used in machining processes to make various parts as it has some amazing properties. So, ABS machined parts also have the same properties.
Chemical resistance: It has a good chemical resistance and its thermal resistance which is medium can be improved on blending. It is resistant to various acids, bases, and other chemical compounds.
Electrical insulation: It has good electrical insulation properties, and hence is safe for use in electromechanical and electrical devices.
Scratch resistance: It is resistant to scratches and dents, and in fact much better then PET.
Stiffness: ABS has amazing impact strength, mechanical strength, and toughness.
FDA compliance: We offer some grades of ABS for food & beverage units as they are FDA compliant.
Recyclability: The most important factor is that it is recyclable.
Finishing: ABS can be machined to make blocks which can be further used to make various parts through the required CNC machining techniques. It offers a great surface finish.
Adhesion: ABS has good adhesive properties and hence can be glued or bonded to adhere to other parts to make a cohesive product.
Types of ABS Machining Services We Offer
We are capable of achieving low and high volumes for all ABS machining services. These are the types of
CNC machining services
we offer for ABS:
CNC Milling: We offer custom milling services such as drilling, slotting, decking, profiling, contouring, thread milling, pocketing, and so on. We offer tolerances as tight as + or – 0.001 or depending upon your requirements.
CNC Turning: For ABS, we offer high precision CNC turning technique so that these sheets can be easily turned to pipe and tube like structures for relevant applications. Some of our turning processes for ABS include tapping, threading, straightening, tapering, forming, and so on. We can customize your part in terms of vises, number of jaw chucks, and collets. We offer in-house tooling and fixtures.
Prototyping: You can easily make 2D or 3D printed prototypes of the ABS machined parts which you would want to use frequently and in large quantities. It helps reduce overall cost, speeds up production volume, and improves time-to-market. We help you achieve all this through our prototyping and 3D printing services.
ABS Grades We Work With
The properties such as impact resistance and chemical resistance vary across grades of ABS. We are experts and customizing and blending the right combination of ABS to get the exact properties you require. Here are the ABS grades we regularly work with:
General purpose ABS: This is used for injection molding for medium impact applications.
Flame retardant ABS: This is important in applications like electronic and electrical devices where thermal abnormalities can be a great concern. We use this in applications wherein high impact resistance and toughness are required, and ensure it is UL listed.
FDA compliant ABS: We use ABS resin grade for all the food processing and other applications where FDA compliance is mandatory.
High impact ABS: We use this widely for automotive applications. Generally, we prefer high impact and low gloss ABS which is robust.
Popular ABS Machined Parts
Here are some popular ABS machined parts we make:
Electrical enclosures
Wheel covers
Toys
Pipes and fixtures
Protective head gear
Golf club heads
Industries Served
The application areas of ABS machined parts are tremendous, and we have served various industries for the same. Here are some of them:
Electrical and mechanical fittings
Toys
Consumer durables
Pipes, tubes, and fixtures
Instrumentation
Since we specialize in precision ABS machining services, we have contributed to various complex and standard projects. Brogan & Patrick, can work as a reliable machining services partner and offer end-to-end solution right from the plastic part design and ideation stages. We can also offer you a
quick quote
and customize the part based on your application requirement. In case of any further questions, you can reach us on
phone
or
This email address is being protected from spambots. You need JavaScript enabled to view it.
.