Aluminum Machining Services
---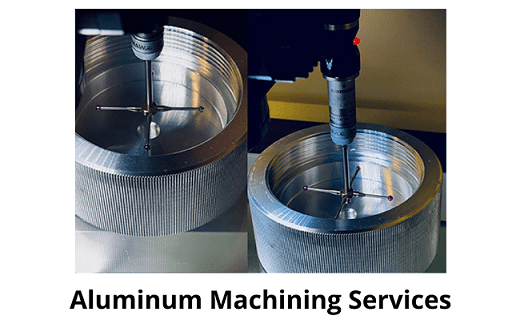 Aluminum parts have gained immense popularity across industries owing to their mechanical properties. Aluminum is lightweight, durable, affordable, and offers excellent corrosion resistance, which makes it an ideal choice for mission-critical applications in aerospace, military and defense, and other industries. Although strong, the material assures easy machinability, which many industries find attractive. Due to the criticality of applications where aluminum parts are used, you must partner with an experienced aluminum machining services provider like Brogan & Patrick Mfg. Corp. Our in-depth material knowledge, industry understanding, and advanced manufacturing capabilities allow us to assure the fastest turnaround times in the industry.
Aluminum Machining Capabilities of Brogan & Patrick
The following aluminum CNC machining service capabilities that we have developed over the years make us popular.
CNC Turning: CNC turning forms the centerpiece of our aluminum CNC machining services. At our facility, we utilize various types of CNC turning machines from brands such as HAAS, Leadwell, and Taksawa. We specialize in contour turning, straight turning, taper turning, live tooling, threading, and hexing. Our advanced CNC turning capabilities allow us to achieve high tolerances up to ± 0.0005, with diameters up to 2.5" (bar feed).
CNC Milling: We provide a wide range of CNC milling services such as drilling, decking, facing, profiling, and slitting. Owing to our advanced CNC milling services, we have been working on projects that demand pocketing, reaming, counterboring, and thread milling. We can achieve milled tolerances up to ± .001".
Precision CNC Machining: At Brogan & Patrick, we provide precision CNC machining services, which allow us to create high quality and on-demand aluminum machined parts. We use advanced CNC machines with features such as live tooling, Master CAM, CNC control, bar feeders, and off-line programming.
Types of Aluminum Grades We Machine
At Brogan & Patrick, we regularly machine the following aluminum grades to produce CNC machined aluminum parts.
Aluminum 6063: Created by alloying silicon and magnesium, this aluminum grade possesses excellent mechanical properties. This grade can be welded easily, and is often welded using tungsten inert gas welding. Aluminum 6063 is widely used for architectural applications like door frames, roofs, window frames, and so on.
Aluminum 6061: This alloy is made of magnesium and silicon, and offers excellent machinability, which makes it a popular choice for several commercial and industrial applications. Aluminum 6061 offers excellent corrosion resistance, medium to high strength, excellent durability, and easy anodization. Owing to all these properties, aluminum 6603 is one of the most common extruded grades after Aluminum 6063.
Aluminum 5052: It is one of the strongest aluminum alloys made of chromium and magnesium. The presence of chromium accentuates its corrosion resistance properties, which is why it is widely considered for marine applications. Aluminum 5052 assures excellent workability, too.
Aluminum 7075: This alloy is mainly employed for high-stress applications. It is heat treatable, strong, and ductile; however, it can also acquire brittleness. It is widely used in aerospace, sporting goods, and transportation industries.
Aluminum 2024: It is a copper-aluminum alloy, which is one of the widely used aluminum 2xxx group alloys. This material assures a high strength-to-weight ratio and fatigue resistance. It is used in making aircraft parts, car parts, structural parts, and so on.
Aluminum 3003: This is the most widely used aluminum-manganese alloys, and is non-heat-treatable. Aluminum 3003 offers high corrosion resistance and ductility, which is why it is used for creating household appliances.
Aluminum 5754: Excellent corrosion resistance in seawater and abusive environments make aluminum 5754 a popular choice for applications in marine and several other industries.
Aluminum 5083: Like aluminum 5754, this alloy can resist saltwater and abusive environments. It retains its strength even after CNC machining and welding.
Why Choose Brogan & Patrick for Your Aluminum CNC Machining Services
The following features of our aluminum machining services will give you reasons to source your services to us:
A Well Equipped Facility: We have invested in technology and resources over the years. As a result, all machining is performed in-house. Being passionate about CNC machining, we regularly update technologies, which allow us to assure precision and accuracy with our products.
Rapid Turnaround Times: At Brogan & Patrick, we have adopted lean manufacturing practices, which help us assure fast turnaround times and reduce wastage.
Affordable Prices: Over the years, we have built strong supply chain networks and business relationships, which allows us source materials from trusted suppliers. This coupled with advanced in-house CNC machining capabilities and lean manufacturing allow us to assure affordable pricing.
Various Production Sizes: It doesn't matter, whether you require prototyping or bulk production, we can assure both.
Applications of Aluminum CNC Machining Services
We have been providing the following types of CNC machined aluminum parts to customers:
Assemblies
Dowels
Handles
Couplings
Fasteners
Bearings
Gaskets
Tubing
Lighting Fixtures
Worm Gears
Front Panels
Spline Shafts
At Brogan & Patrick, we believe that every project is unique. There is no easy or complex project because every application is different. We have offices in Wisconsin and Chicago, thus, we have become a preferred choice for aluminum CNC machining services in Chicago, as well as aluminum CNC machining services in Wisconsin. We have supported the clients who approach us for CNC machined aluminum parts with complex part geometries. So, it doesn't matter, whether you need a precision machined part for your medical, military device or commercial applications, we would be happy to serve you. Please feel free to get in touch with our team today to know more about our plastic and aluminum CNC machining services. You can
request a quote
today for aluminum machining services.