PEEK Plastic Machining
---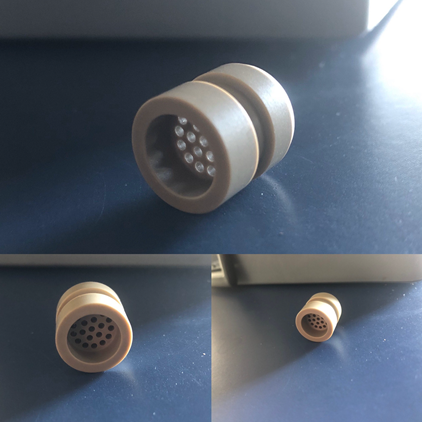 Polyether ether ketone (PEEK) is one of the popular engineering thermoplastic materials used in high performance plastics. It is also one of the difficult plastic materials to machine, and requires special expertise and experience to handle it. The material a has high tendency to crack due to high temperature and internal stress during machining, which makes it even more challenging. Brogan & Patrick specializes in PEEK plastic machining and fabrication services. Our vast experience in PEEK plastic fabrication and machining enables us to assure precision and a high degree of customization when it comes to industrial PEEK machined parts. Our PEEK machined parts have been an integral part of several mission-critical applications for years now.
 What is Polyether Ether Ketone or PEEK Plastic?
PEEK is a rigid plastic, which is considered for making engineering parts that need to withstand abusive work environments. They may be exposed to high temperatures, chemicals, and other harsh elements. The parts created from PEEK plastic offer exceptional dimensional stability as well as wear and tear resistance.
PEEK Plastic is made of repeating monomers of a ketone group and two ether groups, which makes it a higher purity polymer in comparison to other well-known plastic polymers like Ultem, Torlon, Ketron, and so on.
Properties of PEEK Plastic
The following properties of PEEK plastic are widely appreciated by different manufacturers.
The PEEK plastic offers exceptional electrical, temperature, as well as chemical resistance.
The PEEK plastic assures high workability and consistent performance at high temperatures up to 500°F.
PEEK Plastic material is creep resistant, moisture resistant, and offers high strength-to-weight ratio.
Low water absorption and radiation-to-chemical resistance properties of PEEK plastic material make it a suitable choice for applications where they may be exposed to moisture and UV radiation for a long time.
Features of PEEK CNC Machining Services at Brogan & Patrick
The following features of PEEK CNC machining services are widely appreciated by our clients across industries.
The CNC machining of PEEK plastic parts is entirely performed in-house at our well-equipped production facility in West Chicago, Illinois.
At our facility, we provide a broad range of engineering services including product tooling and design as well as CAD/CAM.
We can easily work on quantities from prototypes of medium-sized production runs.
We provide PEEK plastic machining services in compliance to MIL Specs, RoHS, and AMS standards.
All PEEK machined parts are inspected prior to the delivery to ensure high quality and avoid product recalls.
In addition to PEEK CNC milling, turning, and cryogenic deburring, we also provide secondary finishing services such as edge finishing, polishing, and so on.
Our experts work closely with customers to understand their requirements and the operating environments and offer them the best suggestion in terms of materials and machining.
PEEK Plastic Grades We Work
At Brogan & Patrick, we generally work with the following PEEK plastic grades.
Glass-filled PEEK: We work with various glass-reinforced grades of PEEK. Most grades help increase the flexural modulus and minimize the expansion rate of PEEK. Typically glass-filled grades are used for applications, which require stability, stiffness, and strength.
Virgin PEEK: It is a general-purpose grade of PEEK, which possesses excellent toughness, and a high rate of elongation among all grades of PEEK. These grades are used for food-grade applications.
Applications and Industries Served
At Brogan & Patrick, we have employed PEEK plastic machining services to produce the following high-precision PEEK machined parts.
Bearings
Bushings
Rings
Seals
Washers
Piston Parts
Medical Implants
These parts are mainly utilized by our clients in the following industries:
get in touch
with our PEEK machining experts to discuss the use of PEEK plastic to machine your parts for industrial applications. Our experts will respond to you at the earliest.