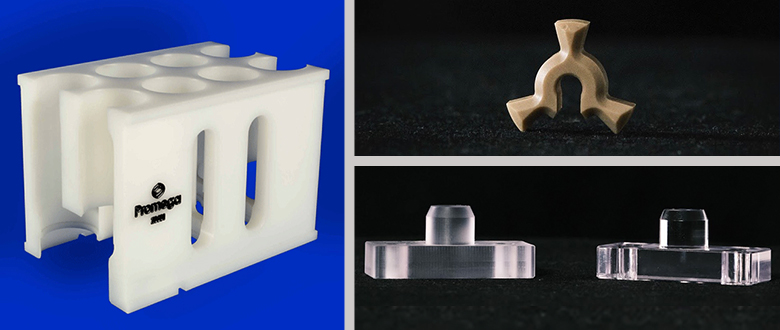 Brogan & Patrick Manufacturing Corp. is an expert providers of precision CNC (Computer Numerical Control) milling services in various states, including Georgia, Ohio, Illinois, and others. We are not only experts in providing CNC milling on plastic, but also on metals. The best thing about Brogan & Patrick is that we make use of the most advanced machinery in our state-of-the-art machine shop.
Our Precision CNC Milling Capabilities
We are a well known to provider of precision CNC milled components in a variety of different states, such as Wisconsin, Illinois, Ohio, New York, and several other states. Here are some of our precision CNC milling capabilities:
CNC Milling Processes -In order to provide the best-in-class services, our machine shop is well-equipped with all the latest and advanced machinery. As far as equipment capabilities are concerned, we can provide indexing, custom fixturing, and CAD / CAM programming from our state-of-the-art facility. Our well-equipped facility allows us to provide a number of CNC milling processes, which include milling, drilling, facing, decking, slotting, slitting, and profiling. We work on a variety of projects that require tapping, counterboring, reaming, contouring, thread milling, and pocketing. We can provide CNC milled products in tolerances as close as ± .001". Our equipment allows us to provide you low and high volume production runs, as well as prototypes. This makes Brogan & Patrick one of the most preferred CNC milling service providers in the US.
Fixtures – Are you looking for a high tolerance CNC machining? If so, then you have come to the right place. High tolerance CNC machining is done at our facility with the help of our in-house vacuum fixtures. So, next time, when you want a tight tolerance CNC milled component, then you can rely on us.
Materials – Our capability to work with a wide range of materials, which include both plastics as well as metals makes us one of the leading and versatile service providers in the industry. We can supply parts out of metals, such as stainless steel, aluminum, brass, copper, alloy steels, mild steels, and bronze alloys. In addition to these, we work in different types of plastic including PTFE, Phenolics (G10, Linen, XXX, CE or C), Nylon, Polyethylene, Acrylic, PEEK, Derlin, and ABS.
Why Utilize CNC Milling Services From Us?
Here are a few benefits that will make you choose us:
Accommodation of Large Parts –We can assist with milling of larger parts with sizes up to 36" or more in some cases.
Competent Parts Manufacturing – Our skilled professionals are capable of manufacturing parts with exact specifications required by the customers. Our machinists have years of experience in machining all materials, so they know all the in's and outs or each material. Thus, it saves money, time, as well as efforts.
Different File Formats Accepted – We accept a variety of file formats. So, you can send us your requirements in various file formats, such as AutoCAD, DWG, IGES, STEP, PDF, SolidWorks, and DXF.
Industries Served
We have a team of highly knowledgeable and skilled staff, which is always ready to help you with your requirements. We have the capability to cater to the needs of various industries, which include:
Telecommunications: Cutting-edge network infrastructure solutions to enhance data transmission speeds. Innovative antenna and signal boosting technologies for improved connectivity. Customized components for telecommunication equipment manufacturing.
Construction: Heavy machinery components designed for durability and efficiency. Structural materials and equipment for large-scale building projects. Safety and automation solutions for construction sites.
Electronics: High-performance microchips and semiconductors for various electronic devices. Miniaturized components to support the development of smaller, more powerful gadgets. Quality control and testing services to ensure reliability.
Material Handling: Conveyor systems for seamless material transport and distribution. Automated warehousing solutions to optimize logistics and reduce operational costs. Safety features and controls for machinery to protect workers.
Automotive: Precision-engineered components for engine efficiency and emissions reduction. Advanced sensors and systems for autonomous driving and safety. Lightweight materials for improved fuel efficiency.
Food Processing: Food-grade materials and equipment to meet sanitation and hygiene standards. Automation solutions for food packaging and labelling processes. Quality control systems to maintain consistent product quality.
Agricultural: Precision farming technology, including GPS-guided tractors and drones. Irrigation systems for water conservation and crop yield optimization. Sustainable agriculture solutions to support environmentally-friendly practices.
Hydraulics: Hydraulic pumps and valves for heavy machinery and industrial applications. Hydraulic power units designed for various pressure and flow requirements. Customized hydraulic systems for specific tasks and industries.
Medical: Medical imaging components for diagnostics and patient care. Implantable devices and materials designed for biocompatibility. Regulatory-compliant manufacturing processes to ensure product safety.
Fluid Power: Fluid control valves and actuators for precise motion and control. Hydraulic and pneumatic systems for industrial automation. Comprehensive fluid power training and support services.
Aerospace: Aerospace-grade materials for lightweight and high-strength components. Precision machining and quality control for critical aerospace parts. Avionics systems for navigation, communication, and safety.
Defence: Military-grade electronics and communication systems. Armoured vehicle components and ballistic protection materials. Defence-specific R&D and engineering services.
Energy: Renewable energy solutions, including wind and solar power components. Grid optimization technologies to enhance energy distribution efficiency. Sustainable practices and products for a cleaner energy future.
We are fast increasing our presence across the US. We have clients in virtually every state. Brogan & Patrick Mfg.Corp already has a strong presence in Wisconsin, Illinois, Ohio, New York, and Michigan. We can also serve you with our best-in-class products and services in other states of the US. Get a quote for your requirements here .
---
---
Related CNC Milling Resources