Delrin® Machining Services
---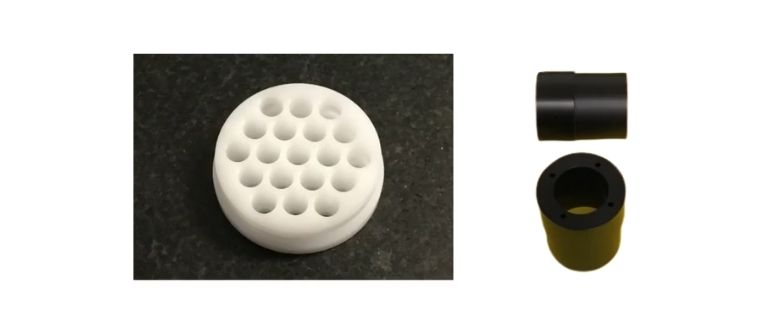 Delrin®, a widely used thermoplastic type, is basically polyoxymethylene or an acetal homopolymer patented by DuPont. It finds applications across industries because of its sturdiness, stiffness, resistance, stability, and other physical properties. In spite of being stiff, it is flexible enough to be machined to form various shapes, sizes, and parts. Brogan & Patrick offers various Delrin® plastic machining services. We also offer prototyping of these Delrin® machined parts and carry out the processes in a controlled environment.
Properties of Derlin®
Delrin® is extremely versatile and lends strength, aesthetics, stiffness, and resistance to the part or product. Here are some properties of Delrin®.
Stiffness: The high level of stiffness Delrin® offers prevents breakage and adds strength to the product. It also ensures that the product or part machined meets the required size, shape, and dimensions and these parameters do not change during machining.
Resistance: Delrin® is resistant to friction, wear & tear, moisture, chemicals, heat, vibration, and these properties are cascaded to the final product as well. It also offers resistance from electrostatic discharge.
Versatility: Delrin® machined parts can be colored depending upon the applications, wherein aesthetic appeal is required, such as decals.
Tensile strength: This offers high impact resistance to the part or product.
Mechanical strength: Delrin® can be combined with other materials to improve its mechanical strength.
Machinability: It can be machined using various processes to make parts with a precision finish.
Types of Delrin® Machining Services We Offer
We make Delrin® parts employing these
CNC machining
processes.
CNC Milling: Our capabilities with milled Delrin® include vapor bonding, solvent bonding as well as prototyping and production runs.
CNC Turning: Leadwells and Haas are some of the CNC machining equipment brands we use along with non-rotary tooling to turn simple as well as complex Delrin® parts. In this, the machining processes we use include drilling, tapping, threading, facing, boring, hexing, cross hokes, and so on.
Delrin® Grades We Work With
We use Delrin® as a primary material and produce various types of standard as well as customized components or plastic products with it. Our Delrin® machining services comprise parts which are stationary as well as moving. Delrin® is available in black, brown and eight natural colors. Delrin® is graded based on strength, resistance, stiffness, viscosity, and so on. Here are the Delrin® grades we work with:
General Purpose Grades: These are the initial grades of Delrin® released by DuPont, but are still widely used. These include Delrin®100, 500, 900, and 1700 grades. These are further categorized based on viscosity, with 100 being the least viscous to 1700 being the most viscous.
Low Emission Grades: These grades offer excellent stiffness, mechanical strength, fatigue resistance, and strength. The ones we work with include Delrin® 100CPE, 300CPE, 500CPE and 511CPE grades. The UV resistant grades come in this category.
Medium to High Viscosity grades: These grades offer fatigue resistance, excellent tensile strength, toughness, and impact resistance. The ones we widely use are Delrin® 300CPE NC010 and Delrin® 300CPE.
Popular Delrin® Machined Parts
The excellent properties Delrin® offers allow us to machine these parts or products.
Cams
Rods
Seals
Teflon Rings
Plugs
Nozzles
Guides
Spacers
Rollers
Sheaves
Washers
Bushings
Wear Pads
Valve Seats
Industries Served
Delrin® machined parts find applications in various sectors. Here are some of the industries where they are used:
Retail
Automobile
Equipment manufacturing
Pharmaceutical
Our experience in plastics and metals machining enables us to assist you to choose the right grade of Delrin® based on your application or product. Brogan & Patrick, as a reliable and certified Delrin® machining services provider offers prototyping as well as production runs. We can also offer you a quick quote and customize the part based on your application requirement. For details or any further questions, do reach us on
This email address is being protected from spambots. You need JavaScript enabled to view it.
or
phone
.