PVC CNC Machining Services
---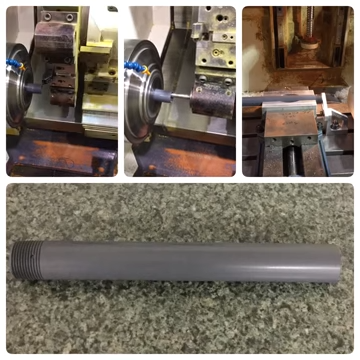 Polyvinyl Chloride (PVC) is one of the most popular thermoplastics. The demand for CNC machined PVC parts across industries is high owing to the versatility and economic efficiency the material offers. At Brogan & Patrick, we specialize in the design and manufacturing of PVC machined parts for various industrial applications including chemical, automobile, marine, fluid transmission, and so on. Our vast experience and technology investments make us one of the most popular PVC CNC machining services in the US.
Although CNC machining is quite a precise and efficient machining technique, the quality and machinability of PVC machined parts highly depend on the material grade. At Brogan & Patrick, our experts utilize their understanding of the properties of various grades of PVC to suggest the grade that best meets your application requirements. This understanding coupled with our engineering expertise has helped us manufacture performance-driven parts for several complex applications.
Features of Brogan & Patrick's PVC Machining Services
Brogan & Patrick is a highly reputed precision PVC CNC machining services provider. We believe our machining services have been in demand due to the following reasons.
Our experts are capable of custom designing the PVC machined parts and customize the PVC machining services. This customization involves design and prototyping using CAD/CAM tools.
We utilize state-of-the-art equipment for the production of CNC machined PVC parts. Therefore, the precision and quality of production are assured.
We have partnered with trusted vendors to source our raw materials, and this ensures the quality and authenticity of PVC polymers.
Owing to the high-quality CNC machines used, we can manufacture highly precise PVC components with a dimensional tolerance of ± 0.002.
Properties of Polyvinyl Chloride (PVC)
At Brogan & Patrick, our manufacturing specialists always focus on the best properties of different PVC grades to build reliable products. Here are a few general properties of PVC that has been best exploited by our experts during different projects.
Electrical Properties: PVC is a good electrical insulator. Thus, this material can be used for manufacturing electronic components. It offers good dielectric strength.
High Durability: The shelf life of PVC is really high as this material can resist chemical abrasions, corrosion, vibrational abrasions, and other environmental factors. This directly improves the service life of PVC components in challenging environments.
Flame Resistance: The material is flame-retardant and makes a perfect choice for high-temperature industrial applications. The high amount of chlorine in PVC makes this material self-extinguishing. If used with phosphate ester plasticizers, it can offer excellent fire performance.
Chemical Properties: PVC remains unaffected by inorganic chemicals. It also offers considerable tolerance towards diluted acids, aliphatic hydrocarbons, and diluted alkalis, etc. Therefore, the sustainability of PVC machined parts remains high in a chemical-exposed environment.
Mechanical Properties: PVC offers excellent mechanical properties like abrasion resistance, toughness, and strength. In addition, the material is light in weight.
All these properties of PVC may slightly differ based on the type and grade of PVC used for manufacturing. Commonly, PVC is manufactured by using suspension or bulk emulsion techniques. Certainly, the properties and capabilities of the material vary based on the type of manufacturing process utilized. That is why the selection of appropriate type and grade of PVC is important in PVC CNC machining. Our experts make that material selection based on product requirements.
Types/Grades of Polyvinyl Chloride (PVC) We Work With
Here are the types/grades of polyvinyl chloride (PVC) Brogan & Patrick work with for PVC CNC machining services.
Flexible PVC (Plasticized PVC): This a flexible type of PVC which is made by adding few compatible plasticizers. The molecular density of this type of PVC is low i.e.; 1.1-1.35 g/cm3. This type of plastic is low in crystallinity. At Brogan & Patrick, we perform PVC CNC machining on this grade to build products from industries like semiconductors, food processing, etc.
Rigid PVC (Unplasticized PVC): This is a rigid form of PVC with a higher molecular density of 1.3-1.34 g/cm3. We can use this type of PVC for manufacturing rigid products like PVC pipes, automobile components, etc. This type of PVC offers high impact tolerance, high strength, water resistance, and chemical resistance. CNC machined PVC parts made from this type of PVC offer high dimensional stability.
Chlorinated PVC: This is a special purpose PVC. It is manufactured by chlorinating the rigid PVCs. The CNC Machined PVC parts made of this grade assures high durability, flame redundancy, and chemical tolerance.
PVC-O: This is another special type of PVC manufactured by reorganizing the amorphous structure of rigid PVC into layered PVC. This type of PVC offers high stiffness, high fatigue resistance, etc.
PVC-M: This special purpose PVC is modified by using a few chemical agents. The properties like stiffness, toughness, impact resistance, etc are enhanced by adding modifying agents to rigid PVCs.
Popular PVC Machined Parts
At Brogan & Patrick, our experts regularly work on projects involving the following PVC machined parts.
Semiconductor Components
Food Processing Equipment
Marine Components
Medical Supplies
Maintenance, Repairs, and Operations (MRO) parts like wear plates, chain guides, etc.
PVC tubes, pipes, rollers, etc.
At Brogan & Patrick, we care for customer satisfaction. Our PVC machining services are oriented to offer you high-quality products at competitive prices. If you are looking for high-quality and reliable PVC machining services, please feel free to
contact us
.