Teflon® PTFE Machining Services
---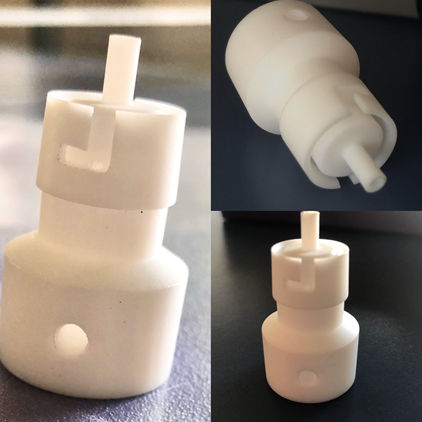 Teflon® (PTFE) is a sturdy plastic designed for high temperature environments and resistant to chemicals, temperature variation, and so on. It has a low coefficient of friction and hence the wear and tear is relatively slow even when exposed to harsh environments. It has some amazing characteristics which make it useful in a number of industrial and domestic applications. One of the good features is: it can be machined to form the size, shape and dimension of a given part. Brogan & Patrick offers TEFLON PTFE machining services along with customization to suit your exact requirement. Additionally, we are capable of handling burrs produced during machining TEFLON PTFE. To enhance the quality of our custom PTFE machined parts, we use a cryogenic deburring machine, which deburrs the part without compromising on its dimensions or other required features.
Properties of TEFLON PTFE
TEFLON PTFE has a large application across industries because of some amazing properties it offers to the product. Here are some of the properties of TEFLON which are lent to the PTFE machined parts:
TEFLON is actually a brand name of polytetrafluoroethylene (PTFE) which is a semi-crystalline thermoplastic.
It offers an amazing thermal stability.
It is water resistant and has low flammability.
It is safe for food contacts as long as it does not corrode and hence finds applications in cookware and food applications.
It has a high impact strength but average mechanical properties. However, its mechanical properties can be improved by combining it with carbon or glass.
It is wear, abrasion, as well as chemical resistant and suitable for high temperatures and harsh environments.
It is friction resistant as TEFLON is self-lubricating.
TEFLON can be easily machined.
It can function on a continual basis in a wide temperature range from -100 to 400 degrees Fahrenheit.
It offers a great dimensional stability to the part or component.
Types of TEFLON PTFE Machining Services We Offer
We offer end-to-end services and hence can offer help in design as well. On the other hand, if you have a design file, you can send it to us. We offer batch runs as well as prototypes of custom TEFLON PTFE machined parts. Here are the services we offer:
Drawing and machining design: We help you with drawing and design using various software such as CAD and CAM after thoroughly understanding your requirements.
CNC milling: We offer various milling processes such as drilling, slotting, reaming, thread milling, pocketing, and more. CNC milled custom TEFLON PTFE machined parts can have tight tolerances.
CNC turning: We have CNC turning centers and machines with multiple axes, which enable us to perform various turning processes such as turning, live tooling drilling, tapping, and more, and achieve tight tolerances or as required.
Part marking: This technique enables us to put in the part details on it when machined. This includes part information such as date, serial number, part number, and so on.
Cryogenic deburring: This technique enables us to remove all the imperfections or burrs in machined parts, leaving absolutely no signs and without compromising on the part's structural integrity. With PTFE, it removes flakes, pointed pieces, chipped materials from the part.
Popular TEFLON Machined Parts
PTFE machined parts are widely used across industries. Here are some popular TEFLON machined parts we make:
Seals
Insulators
Bearings
Spacers
Valve bodies
Gaskets
Thrust
Washers
Industries Served
The application areas of TEFLON PTFE machined parts are tremendous, and we have served various industries for the same. Here are some of them:
Chemical Processing
Fluid Power
Electrical
Instrumentation
Semiconductor
Telecommunications
Brogan & Patrick specializes in custom plastic parts machining and offer TEFLON machining services, PTFE machining services, and more. We offer end-to-end solution right from the TEFLON PTFE part design and ideation stage to installation. We can also offer you a quick quote and customize the part based on your application requirement. All our
CNC machining services
are performed at our state-of-the-art facility comprising technologically advanced CNC machines. In case of any further questions or enquiries, you can reach us on
phone
or
This email address is being protected from spambots. You need JavaScript enabled to view it.
.