Teflon® (PTFE) Plastic Machining
---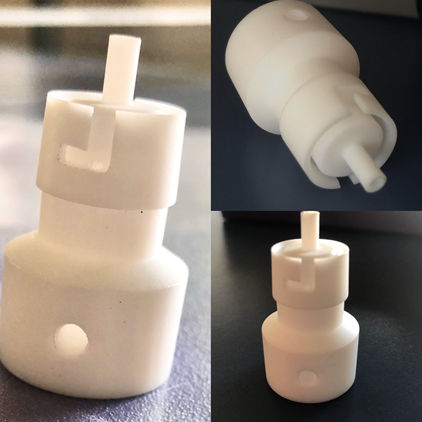 Teflon® (PTFE) is a high-performance material that has a low coefficient of friction combined with fantastic wear resistance.  It is a material that is great in harsh, chemically exposed environments. Teflon® (PTFE) is a great material for sealing applications because it is self-lubricating.  Its insulative characteristics make it a great choice in electrical applications. Teflon® (PTFE) is another material that can maintain dimensions in continuous high operating temperatures.  Teflon® (PTFE) is used in a variety of industries such as Semiconductor, Aerospace, Oil/Gas, Chemical Processing, Fluid Power, Electrical and Medical.
Get Slick With Teflon® (PTFE) Seals, Insulators, Bearings
Brogan & Patrick Mfg. machine Teflon® (PTFE) seals, insulators, bearings, spacers, valve bodies, gaskets, Thrust Washers and more.  These components are used in the Semiconductor, Medical, Chemical Processing, Fluid Power and Aerospace industries.  When machining Teflon® (PTFE), the process will often kick up a burr.  Not a problem for Brogan & Patrick as our Cryogenic DeBurring machine will cryo the burrs right off the part without losing any dimensional integrity of the part.  Our customers' Teflon® (PTFE) components arrive at their facilities burr-free.
Industries
Chemical Processing
Fluid Power
Electrical
Instrumentation
Semiconductor
Telecommunications
Key Properties
Continuous operating performance from -100°F  to 400°F
Dimensional Stability
Excellent Chemical Resistance
Good Wear and Abrasion resistance
Self-Lubricating
Easily machined