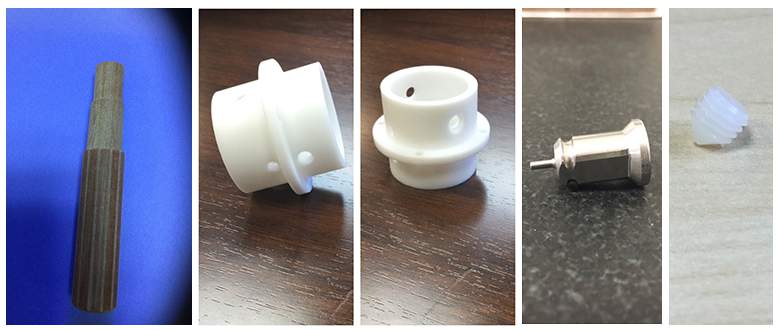 Formation of any part or product comprises manufacturing and fabrication of smaller sub parts which are then assembled to form one major part or product. CNC machining is a subtractive technique widely used to form and shape parts across industries. Most OEMs prefer to get this done from a reliable CNC machining services provider. At Brogan & Patrick, we offer CNC machining services at our well-equipped units in Illinois and Wisconsin. We use advanced machines and software to facilitate manufacturing of high precision, high accuracy, and complex design parts in high volumes.
Our General CNC Machining Services Capabilities
As mentioned, we invest in technology along with skilled workforce, and these two aspects help us expand our machining capabilities in many ways. We offer primary as well as secondary machining services.  The following general CNC machining capabilities that we have developed over the years have helped us serve our clients better.
CNC Turning is a precision CNC machining technique where a cutter is used to remove a material from work pieces. In this process, the work piece is kept in a chuck and is made to move in a rotating axis. The tool will remove material by creating holes, grooves, and cuts and is more appropriate for creating round surfaces.
CNC Milling is a subtractive manufacturing process that uses rotary cutters for shaping a work piece. It can be performed on one or several axes to meet the design requirements and is more suitable for flat work pieces. We employ 3-axis milling to engineer parts for a wide range of plastics and metals. These parts can be provided in close tolerances of .001". Our experts have performed CNC milling for parts as large as 36".
CNC Cutting is a process of cutting materials into desired shapes using CNC machines. Our facility is equipped with machines that enable us to accomplish precision CNC cutting services.
CNC routing is employed to create work pieces of fine geometries. This is another computer controlled cutting technique where a material is are cut through a router mounted on the machine, which acts as a spindle. We use routers to create parts made of materials such as composites, wood, glass, foams, and aluminum.
Unlike all other CNC machining processes, in this process, the work piece remains fixed and the cutter moves. The cutter center and the hole center are aligned and the cutter is made to move. CNC drilling is performed on work pieces to create holes for installing screws and machine bolts.
In CNC live tooling machining, the work piece remains in orientation of the spindle. The turret of different spindles is used to perform different types of machining operations.
We use CNC machines with features such as advanced CNC control, off-line programming using Master CAM, live tooling, and bar feeders. These advanced features allow us to produce parts with tolerances up to ± 0.0005.
CNC Machining Materials We Work With
We work with a variety of plastics and metals. Here are some materials we work with.
Plastics: We provide plastic CNC machining services and work with a wide range of plastics including the following:

PVDF
Vespel
Phenolics (G10, Linen, XXX, CE or C)
Metals: We provide metal CNC machining services and work with a wide range of metals such as:
Note: Our expertise is not limited to the above CNC machining materials. You can get in touch with us if you any other specific material machining requirements.
CNC Machining Surface Finishes and Treatments We Offer
As mentioned, we offer a number surface treatments to remove scratches, burrs, and improve finishing. These are done on already CNC machined parts. Here are some of them:
Powder Coating: This process comprises applying a layer of dry powder onto the metal surface. This is sprayed onto the surface via heat curating, which forms a hard layer on the surface. This process offers protection from rusting and adds to the aesthetic appeal of the product.
Anodizing – Type II & III: The type II anodizing helps improve the corrosion resistance, while type III helps create a hard coating on the part surface. This is an electrolytic passivation process, wherein a layer of aluminum oxide is applied onto the surface of the machined metal part. This strengthens corrosion and abrasion resistance.
Bead Blast: This treatment offers a matte surface finish which adds to the aesthetic value of the part or product. It creates a uniform surface wherever required. In this process, small glass or steel beads in the range of 100 to 400 are blown onto the surface of a machined component or product at high pressure. Steel beads remove contaminants and unwanted portions, and uneven textures from the surface.
Milled Finish: While this is a commonly used surface treatment, it may leave some marks on the surface of the part or object. Milled finish may appear rustic as it does not offer a plain or glossy surface finish. A part or product has milled finish the moment it exits the processing mill. The object or part may appear dull or unfinished with uneven texture, grains, or lines.
Electroplating/Plating Services We Offer
Electroplating is an electrochemical process used on CNC machined parts made of metal, wherein electrolytic deposition of metals such as silver, chromium, nickel, and so on is done to the part surface. This is done to build corrosion resistance and also for a fine surface finish. It may also be done to increase the surface thickness. Here are some processes we use for electroplating of machined metal parts.
Black oxide: This process done on CNC machined metal parts helps reduce light reflection as well as improve corrosion resistance. This is a black coating applied on various metals and alloys such as copper, iron, zinc, silver, powdered metals, and more.
Abrasive blasting/sandblasting: Some sand-sized abrasive material is jetted at high pressure onto a machined part surface to smoothen it and remove contaminants.
Passivation: It is a process done on steel machined parts which helps remove the excess free iron from the steel part surface. This ensures there is more amount of chromium in the part which increases corrosion resistance.
Painting: Here, the machined part is painted with colored resins, which certainly improves the finishing and aesthetic value. It also improves the functionality of the part.
Polishing: As this term implies, it offers a smooth and glossy surface to the machined part. It also removes burrs and tool marks. It may be done with the help of rotating or vibrating tumblers. With this process, we can adjust the amount of light reflection required in a part; it can be either reduced or increased.
Chromate conversion coating: This process improves the corrosion resistance as well as brightness of a machined part. In this process, hexavalent or trivalent chromium solution is used to paint a layer on surfaces of metal machined parts such as zinc, aluminum, magnesium, copper, and more.
Standard Tolerances for CNC Machined Parts
Tolerances largely depend on the type and thickness the workpiece, and is different for metals and plastics. It also differs with the type of process, such as turning, milling, and so on. Thanks to our advanced machines, we offer tight tolerances or as required. We offer tolerances as tight as ± from 0.0001 to 0.0005. For milled metal parts, we offer tolerances up to 0.001 inches.
Benefits of Using CNC Machining
Undoubtedly, there are several benefits of using CNC machining. Here are some of them.
You can accurately produce high volumes of the same part with precise dimensions. If manually done, this is a mundane and repetitive task which will definitely lead to errors and lack of precision. By partnering with a precision CNC machining services provider, you can be assured of structural and dimensional accuracy of parts, regardless of the volume required.
It reduces time and increases productivity or OEMs, quick assembling, as well as time to market of products.
Since this is subtractive manufacturing technique, CNC machining leads to less wastage. With the design already in place, one can rightly estimate the material quantity, and other aspects.
Once you select and run the right software program, the production will go on in iterative looping manner, till the machine is stopped. In fact, in automated process, you can set the volume and the machine will automatically stop once the required number of parts are produced.
CNC machining definitely wins on the safety aspect. It isolates workers from operating machines, which reduces the risk of accidents and injuries.
Fast turnaround times and accuracy provided by CNC machines helps OEMs across industries save resources and energy.
How Does CNC Machining Work?
CNC machines work based on the computer software installed in their system. There are a number of programs with ready functions which can be called or run. Also, you can feed the required set of instructions, start and end time, volume, and other details such as dimensions, shape, and so on. Simply put, the machine follows these instructions. Also, this is subtractive manufacturing technique, wherein a sheet or block of metal or plastic is kept, and unwanted portions are removed to give them the required shape.
We have CNC milling and turning machines with advanced tooling and multiple axes. We can run multiple jobs at a time using our machines with three and five axes. These machines have high precision capabilities and are suitable for complex geometries.
As part of secondary operations, our machines are capable of heat treatment, surface finishing, and related post-processing services.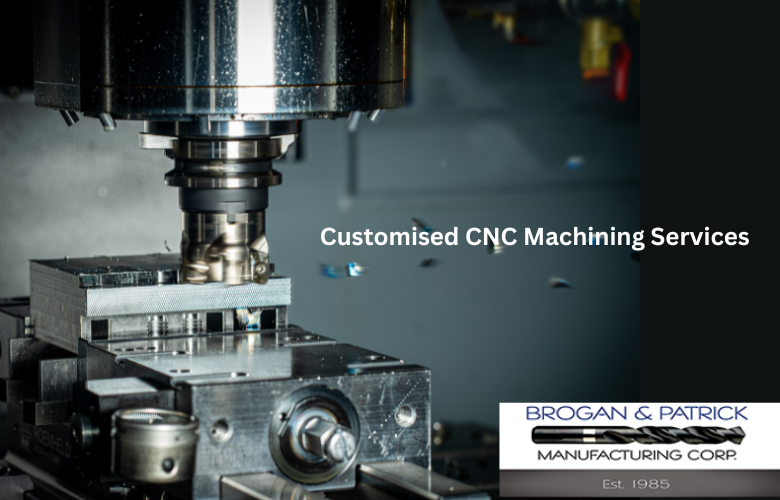 Features of CNC Machined Parts Worth Considering
CNC machined parts have an edge over others that are fabricated using manual or other techniques. Here are some reasons why you may want to consider CNC machining over other techniques.
Regardless of the volume, these parts are hugely consistent in terms of structure and dimensions.
Since CNC machining is numerically controlled through a software program, the precision is quite high and there are low chances of errors.
These already machined parts undergo secondary treatments for finishing, and this helps achieve the required surface finishes.
These parts are high on flexibility and adaptability as they are made using various metals and alloys with different properties. This also applies to plastic parts as the type of thermoplastic selected is resistant to very high temperatures and other environmental parameters.
How to Start CNC Machining Parts Process with Brogan & Patrick?
The process to partner with us for your CNC machining requirements with us is quite easy, transparent, and flexible. Here are the steps explained in brief.
Upload a CAD File: While we offer end-to-end solutions which includes everything from part procurement, discussing BoM, and designing to shipping, we do accept CAD files in case you have your design plan ready. You can mail us your CAD design files at

This email address is being protected from spambots. You need JavaScript enabled to view it.

and we will upload them into our system to turn the design into a machined part you require.
Quote & Design Analysis: We gather requirements through meetings and discussions at length to understand your requirement. Based on the design analysis, we offer you a quick CNC machining quote. Alternately, you can request a quote online and our experts will revert with the most competitive CNC machining quote in quick turnaround times. .
Order Confirmation: We offer you a prototype if required after the quote. This gives you an idea about the final part and the scope to make changes if any in the design. We start the actual production only after receiving the written confirmation from the client.
Parts Shipped: Your parts once manufactured undergo secondary treatments if required. At every stage, we perform thorough testing and inspection, and a final inspection before the parts are shipped.
Applications of CNC Machining Parts
There are diverse applications of CNC machined parts- both plastic and metal. Here are some application areas.
Electrical fittings
Mining
Heavy engineering
Construction
Defense
Following are some of the industrial machine components that make use of our CNC machining services. We can provide these components in materials of your choice.
Wear Strips
Wear Bends
Scrolls
Rollers
Bushes
Presses
Gears
OEM Parts
Food Quality Components
Why Choose Brogan & Patrick for Precision CNC Machining Services
Quality, precision, and quick turnaround times are some reasons, why you may want to partner with us for your CNC machining requirements. Here are some more factors.
Experience: After all, the experience, we get helps us form opinions and also make decision. We offer our clients a good experience in the form of hassle free process, good service, clear communication, and so on.
Well-Equipped Production Facility: We have a state-of-the-art facility with advanced machinery which allows us to cater to the most complex requirements and fast production.
High Industry Standards: We have set certain standards in terms of design, tolerances, precision, and the overall services. We comply with international standards of manufacturing. Even when procuring materials, we are particular about certifications and their quality.
Quality Assurance: As mentioned, you can be rest assured about the product quality. We have set standards for quality assurance and follow the procedures strictly. This includes developing and documenting areas of improvement in testing and design.
Custom CNC Machined Parts: Over the years, we have had the privilege of working with clients from diverse industries. This is one factor which has helped us understand and work upon varied requirements at length, and subsequently offer custom CNC machining services.
Manufacturing Analysis: We have implemented DFM or Design for Manufacturing which helps us increase our efficiency and reduce costs.
Scales of Production: Thanks to our machines, investment in technology, and industry-wide experience and expertise, we can handle prototypes, batch production, low and high volume production with equal ease.
Responsive & Fast: Without compromising on quality, we offer quick turnaround times which helps our clients accelerate their time to market capabilities. We offer quick responses and excellent service, thanks to our excellent team who maintain transparency and clarity in communication and can answer all the questions prospective clients may have.
Engineering Expertise: We have an excellent team of designers and engineers who have, over the years, built expertise in developing machining processes for several industry domains and complex requirements.
Brogan & Patrick is a one stop shop for all your fabrication needs. We offer a wide range of precision CNC machining services that can meet and support your one-off prototyping as well as low and full-volume production requirements. Over the years, we have emerged as the first choice for geometrically complex parts involving 3-axis machining and requiring surface finish requirements. We believe our commitment to the fastest CNC machining services and industry experience has made us what we are today. Want to know more about our custom CNC machining capabilities? Feel free to contact us today. Our experts will be happy to answer your queries.