Torlon® Machining Services
---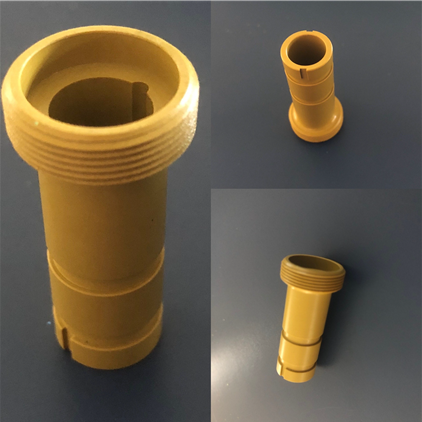 Torlon® is one of the popular engineering thermoplastics known for its high-performance capabilities. This thermoplastic retains its strength and performance at high temperatures, which is why it is used in various challenging aerospace environments. Torlon® machining requires proper tools and inserts. It also requires carbide or diamond tooling for production runs. To take advantage of the Torlon® properties and produce best finish and parts with precise tolerances, the use of proper tooling, speeds and feeds, and coolants are required. All these combined with our engineering expertise make Brogan and Patrick one of the popular Torlon® machining services providers in the US.
Properties of Torlon®
Torlon® is an amorphous engineering thermoplastic, which is non-crystalline and is produced during the reaction between an aromatic diamine and trimellitic anhydride. This material is also known as amide-imide owing to its polymer chain that links amides and imides. Our in-depth understanding of the properties of this material has helped us meet challenging project requirements and become one of the most sought after Torlon® machining services providers.
High-temperature Resistance: Torlon® possesses excellent thermal resistance and can withstand temperatures up to 500°F. It can outperform many engineering resins at 400ºF. This high-temperature resistance makes it a perfect material for electrical parts, bearings, and seals. We work with several carbon fiber reinforced and glass reinforced grades of Torlon®
Excellent Chemical Resistance: Torlon® can resist aromatic and aliphatic hydrocarbons, chlorinated fluorinated hydrocarbons, and acids at any temperature. This material can resist most fluids used in aviation and other industries, which makes it an ideal choice for machined parts in the aerospace and defense industries.
Excellent Dimensional Stability: Torlon® possesses excellent dimensional stability over other engineering thermoplastics. It has high creep resistance and a low coefficient of thermal expansion.
High Impact Resistance: Owing to all the above-discussed properties, Torlon® machined parts possess high impact resistance and compressive strength, which makes them suitable for the most challenging industries where they may be exposed to vibrations and other impacts.
Excellent Tensile Strength: The material possesses tensile strength of 18,000 psi and flexural strength of 24,000 psi.
High Degree of Customizability: Although strong, this material can be easily molded into desired shapes and machined with great accuracy to produce precision-designed Torlon® parts.
Torlon® Grades We Work With
Our engineering expertise and technology investments have been the cornerstone of our Torlon® machining services. We regularly work with the following Torlon® grades.
Torlon® 4203: Torlon® 4203 Electrical Grade is the unfilled or natural grade of Torlon®. It is often used for making seals, sockets, washers, spacers, and more in the electrical industry. This grade possesses excellent insulation properties and high impact strength. We often machine Torlon® parts for the electrical industry and high-temperature environments.
Torlon® 4301: It is a wear-resistant grade comprising PTFE and graphite. 4301 is ideal for any part demanding excellent wear resistance. Like other grades, this Torlon® grade also offers immense strength and can withstand friction. In addition to this, it has low coefficient of friction and expansion rate. Most clients seeking our Torlon® machining services approach us for creating wear-resistant parts using this grade for severe service weather applications.
Torlon® 5030: This is 30% Glass Fiber reinforced PAI. This version of Torlon® is used for extreme heat applications used in the aerospace industry. It can often be found in jet engine requirements.
Popular Torlon® Machined Parts
At Brogan and Patrick, we provide the following Torlon® machined parts to our industrial clients:
Blocks
Valve Seals
Bearings
Bushings
Guides
Caps
Insulators
Pump Components
Plugs
Pads
High Temperature Insulation Rollers
Spacers
Washers
Supports
Electronic Equipment Parts
Replacement Parts for Ceramics and Metals
Nests and Sockets
Industries Served
Over the years, we have built a huge clientele across industries. We can say with pride that we cater to clients from the following industries.
Conveyor
Energy
Semiconductor Industry
Our experts will work closely with you to identify your application requirements before helping you with the right specifications. We believe this dedication towards your requirements has immensely helped us grow into one of the well-known Torlon® machining services providers in Illinois. You can
call us
today for more information on our Torlon® machining services and other
CNC machining
capabilities.