UHMW Machining
---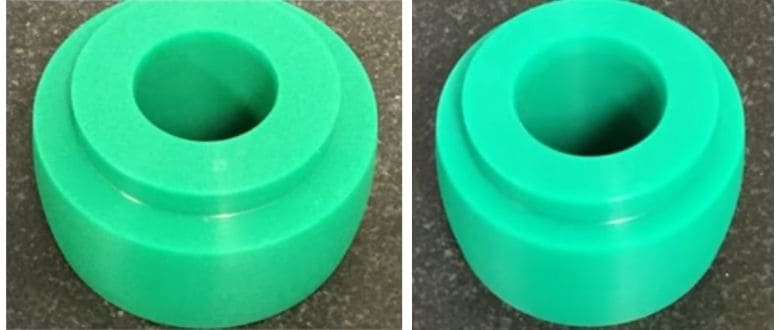 Brogan & Patrick specializes in UHMW machining and has always delivered accurate, reliable, and custom UHMW machine parts for critical applications across industries. UHMW is an ultra-high-molecular-weight polyethylene. The material is popular for its extremely high molecular mass and features a long chain of molecules and strong molecular interaction. This is perhaps the polyethylene with the highest molecular density. Due to properties like wear resistance, shock tolerance, erosion-resistance, etc, UHMW machined parts are gaining popularity across industries. Our vast technical and engineering expertise enable us to produce parts that always exceed customers' expectations.
Features of Brogan & Patrick's UHMW Machining Services
At Brogan & Patrick, we dedicate our technical expertise to result-centric services and optimum results. The following properties of Brogan & Patrick help us accomplish the goals.
Our experts specialize in handling unique feed rates during UHMW machining processes.
The use of state-of-the-art equipment allows us to deal with multiple grades of UHMW.
We strategically plan the complex UHMW machining cycle and design the intricate products with CAD/CAM prototyping tools.
We invest in the latest technologies to achieve precision. We offer UHMW machined parts at close tolerance of ± 0.002.
All UHMW machined parts are inspected and tested for quality before leaving our facility.
Properties of UHMW
The following properties of UHMW make it a primary choice for several industrial applications.
Wear Resistance: UHMW offers extremely high wear resistance. Its high molecular weight and strong intermolecular bonding make it a tough material. It offers good wear resistance and abrasion resistance. Perhaps, it offers 15 times higher abrasion resistance than carbon steel! Low Friction Coefficient: It has a very low coefficient of friction, therefore it ultimately offers excellent sliding ability, smooth surface finish, etc.
Shock-Tolerance: It offers high shock tolerance due to high molecular density. This is why UHMW machined parts can sustain mechanical vibrations, external shocks and force impacts, etc. It offers a non-stick surface as well.
Non-Toxic/Non-Hazardous: It is a physically non-toxic material. It does not produce any toxic fumes or by-products. Therefore, it is non-hazardous and used for applications like food equipment and medical devices.
Erosion-Resistance: It offers excellent resistance to erosion. It is immune to several concentrated acids, bases, and organic solvents. It offers high resistance against corrosive chemicals. However, it is not immune to oxidizing acids.
Zero Water Absorption Rate: It absorbs absolutely zero molecules of water, therefore is suitable for underwater applications.
UHMW Grades We Work With
At Brogan and Patrick, our technical expertise and state-of-the-art equipment allow us to work with standard, high-conductivity, and high antistatic grades of UHMW. The following are the grades of UHMW we frequently work with.
UHMW-NA: This is the standard grade of UHMW. The material is white in color and offers the superior sliding ability. We commonly utilize it for manufacturing packaging material.
UHMW-B: Same as standard grade UHMW-NA, this UHMW-B offers superior sliding ability and high wear resistance in addition.
UHMW-G: UHMW-G is an equivalent grade to UHMW-NA with additional abrasion resistance. It is green in color.
UHMW-ASB: This is a high conductivity grade of UHMW. It has a low electrical resistivity of 102 O.m. This grade of UHMW with high conductivity and high antistatic performance appears black in color.
UHMW-ASN: This is an antistatic grade of UHMW which features a non-carbon molecular structure. It offers high wear resistance.
Most of these UHMW grades are used in food processing applications in various countries.
Popular UHMW Machined Parts
Brogan & Patrick works with a long list of clients from the industries like aerospace, instrumentation, marine, etc. The following are a few frequently delivered UHMW machined components:
Conveyors
Food processing equipment
Medical devices
Marine components
Semiconductor devices
MRO parts like wear plates, chain guides, etc.
At Brogan & Patrick, we dedicate our efforts to the utmost customer satisfaction. Therefore, to ensure the quality, durability, and performance of UHMW machined parts, we invest in smart design, the use of high-quality material, and superior UHMW machining techniques. In case of any queries, please feel free to contact our team via Contact Us.